Product Details
---
Calming & Hydrating Mask with Natural Essence and Aqua Ceramide
MILD ESSENCE DERIVED FROM NATURAL INGREDIENTS

Contains essence made with 93% natural ingredients, including Centella Asiatica Extract and Viscum Album(Mistletoe) Fruit Extract. Soothes and vitalizes stressed skin.

AQUA CERAMIDE FOR INTENSE HYDRATION

Patented moisturizing ingredient, Aqua Ceramide, delivers intense hydration. Smoothes skin without feeling of stickiness.

100% COTTON SHEET

Mask sheet using Europe's Oeko-tex® Standard 100 Class 1 certified pure cotton.
Fits softly and lightly onto skin.
INGREDIENTS
---
Centella Asiatica Extract
HOW TO USE
---
1. After cleansing, prime skin with a toner.
2. Place the sheet mask onto the face, adjusting around the eyes, nose, and mouth.
3. With the sheet mask still on, gently massage the face with fingertips, using tapping motion.
4. Leave on for 10–20 minutes.
5. Remove mask. Gently massage face again using a tapping motion for absorption of the remaining essence.
Tip: Use the excess essence in the package to apply on neck and body as needed. For best results, refrigerate the mask before use until the thermometer color turns green.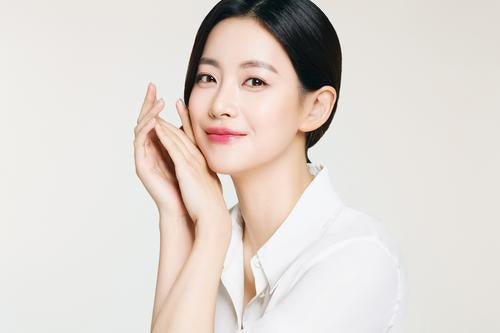 Whether on the screen or in everyday life, she constantly shines in various fields of interest. Her unwavering and enterprising attitude has driven her to, transform herself and not being satisfied with her current status. She personifies the journey of beauty AHC advocates.
---
Yeonseo Oh
Coming Soon
This product is not yet available.
Stay in touch and we will tell you when it is!